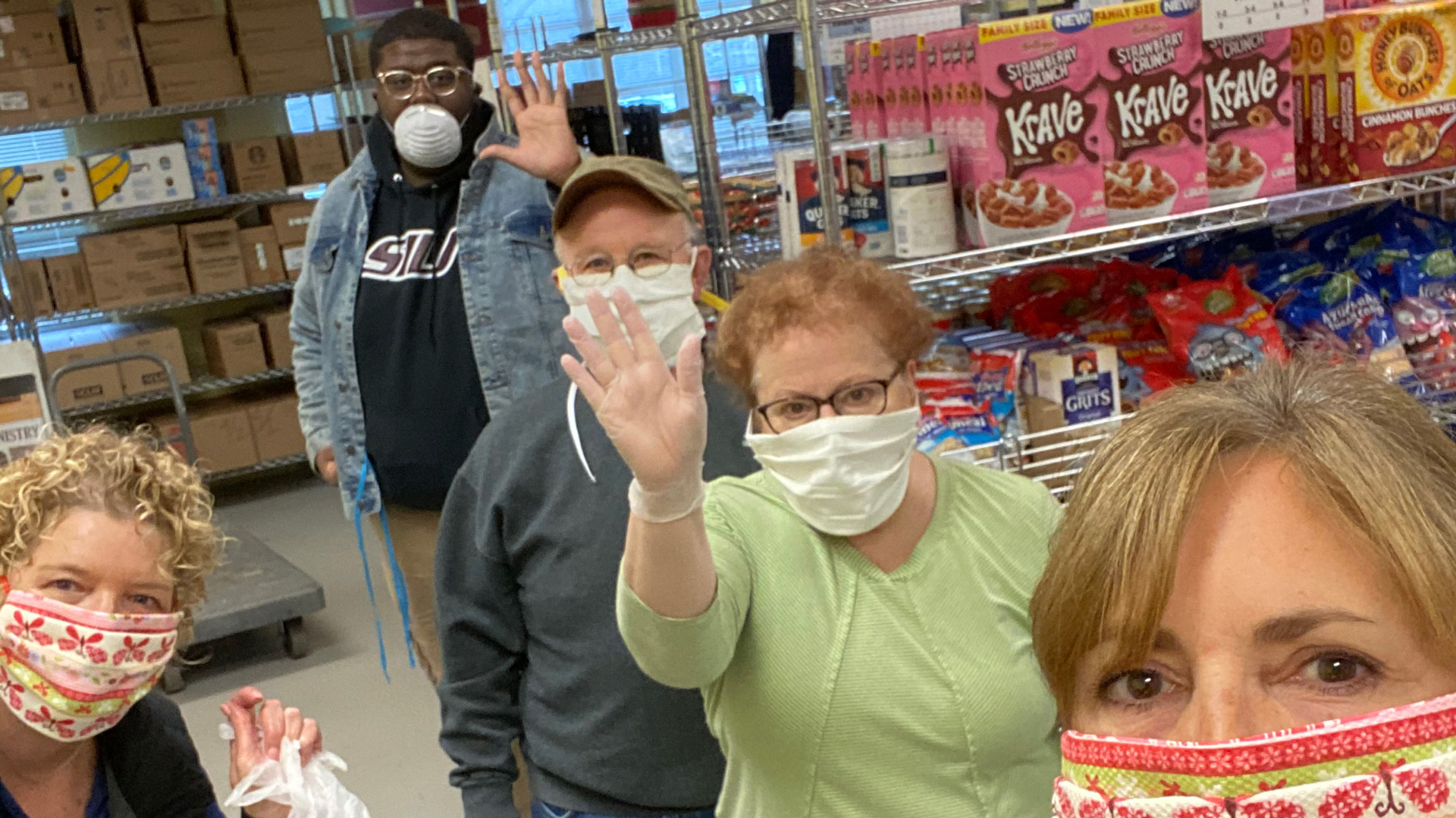 As Christians, we welcome all to the table. Yet, we know that some of our friends and neighbors may be facing food insecurity as they try to provide for their families. We invite you to explore the many ways Second is address the issue of hunger in our neighborhood, city, and world.
If you would like to explore how to share your gifts with our mission partners, please contact Rev. David Berry.
Hunger icon as promo image
+

Northside Mission Ministry
Sign up to help at the food pantry

Northside Food Pantry is open to Washington Township residents on the following days:

Tuesdays, 12:30-3 p.m.
Wednesdays, 4-6:30 p.m.
Saturdays, 10 a.m.-Noon

Northside Ministry cares for the poor and those experiencing hardship in Washington Township by building relationships to develop food security, to work toward economic stability, and to participate fully in the life of the community.

Check out this profile of Northside Mission Ministries in Responsive Congregations, a publication of the Project on Religion and Urban Culture 2.0, a joint initiative of the Polis Center and IU School of Liberal Arts. You'll see how the Holy Spirit has moved within our congregation to shape this vital ministry "To create transformational change in the place that Second Church has called home for nearly two centuries, among people who—members or not—belong to its community."

Northside Food Pantry

Located on the northeast corner of the church, the food pantry is a tangible witness to our church in action.

Recently, as the need has increased, our pantry has responded with stocked shelves and no-contact service. Before each shift begins, a long line of cars winds through the church parking lot. Volunteers gather family information through car windows, fill bags of groceries, and then load them into the back of waiting vehicles.

If you are able to help at the pantry, please sign up online. We are limited to 12 volunteers per shift, so we are managing our volunteers closely with SignUpGenius. In addition to food pantry hours, volunteers are needed to unload deliveries and stock shelves.

Northside Food Pantry sources most of its food through Gleaners. If you would like to help keep the pantry shelves stocked, you can donate online and select "Northside Food Pantry" in the drop-down menu.

For more information or to volunteer, contact Lisa Enright.

---

Pantry Volunteer Opportunities

We encourage you to consider all volunteer opportunities described below and then sign up online.

Client Intake - Working outside, you interact with the client at their vehicle to gather information, so volunteers can shop for their needs. This position requires some training.

Client Liason - This job involves shopping for clients off their shopping lists. Plan to be on your feet 3-4 hours. You will receive on the job training during your first shift.

Data Entry - This job requires special training and is a sit-down job. It involves the use of a computer and the ability to multi-task. If you are interested in this position, please reach out to Lisa Enright to set up training.

Car Loader - This is an outside job where you take the groceries gathered and place them into the client's vehicle with little to no contact.

Food Delivery Processing - This job involves unpacking, sorting and storing food from our various vendors. Food delivery takes place when the pantry is closed to the public. This is a behind-the-scenes job with no food pantry client interaction. You will receive on-the-job training.

Nora Off Loading - This sign up entails helping process our Nora donations. You will weigh, sort, and put away donations. You will receive on the job training.

Contact:
Lisa Enright
LEnright@SecondChurch.org

---

Community Garden

The three-quarter acre plot south of the church provides fresh vegetables to the Northside Food Pantry. Dedicated volunteers tend the garden, which is not only productive, but also beautiful, featuring flower beds, a seating area, and a prayer garden.

Contact:
Jeff Reese
Garden Manager
reesejs19@gmail.com

---

Greenbriar Elementary School

Northside works collaboratively with Women@Second and other friends of Greenbriar to provide volunteer support for classrooms and school events, snacks for after-school tutoring, teacher appreciation events, and the donation of school supplies and other specially requested items.

Greenbriar students need school supplies throughout the year. Download the supply list (link: https://www.secondchurch.org/attachments/greenbriar school supply list.pdf) and bring donations to Second in a bag marked "Greenbriar."

Contact:
Jan Millholland
jmillholland@indy.rr.com

---

Utility and Rent Assistance

The Utility and Rent Assistance Program (URAP) partners with the Fay Bicard Glick Community Center and the Washington Township Trustee Office to offer emergency financial intervention. In these "gap" situations, a little assistance goes a long way, often preventing a family from losing their housing or having their power shut off. Our partners provide vital case management with URAP families to ensure long term stability.

+

Community Garden
Help harvest our bounty!

It's harvest time! Volunteers are welcome to come help harvest and bundle our bounty.

Hours:

Tuesday, 9 a.m. to Noon
Wednesday, 2:30 to 6 p.m.
Saturday, 8:30 to 11 a.m.

Please wear a mask and follow social distancing guidelines. Please do not attend if you are sick, develop COVID-19 symptoms or believe you may have been exposed by close contact. If you do not feel well, regardless of whether you think it is COVID-19 or not, please refrain from attending.

No experience required! The garden team will be on hand to coach volunteers in a variety of tasks including picking beans, cleaning produce, bundling food, assembling soup kits, and more. Some jobs (but not all) require bending over or getting down on the ground.

The garden team harvested 1,322 pounds of produce by the end of August -- more than double the amount gathered last year! This fresh food goes on the shelves of the Northside Food Pantry, where it is distributed to local families.

If you would like to help in the garden, please contact Jeff Reese at (317) 407-5757 or ReeseJS19@gmail.com.

+

Umoja Partnership
Join us in prayer for our brothers and sisters in western Kenya.

For more than ten years, members of Second have joined with other faith groups in Indianapolis to support the work of the Umoja Partnership in western Kenya. The Kenyan staff provides food, shelter, empowerment programs, and education fees for orphaned and vulnerable children.

Umoja is a partnership of many faiths, from different cultures, on two continents, united in service to change lives by keeping children in school. Umoja means "unity" in Kiswahili. Learn more about Umoja Partnership.

Currently, Umoja Partnership provides a nutritious meal to more than 4,000 children each school day. This food is often the only meal of the day for many children.

Second is a founding member of Umoja Partnership, an interfaith organization dedicated to transforming communities one child at a time. Formerly known as Global Interfaith Partnership, Umoja is a partnership of many faiths, from different cultures, on two continents, united in service to change lives by keeping children in school. You can learn more at UmojaPartnership.org.

+

Souper Bowl of Caring
February 2 and 9

Tackle Hunger Together - Join the Team for those in need!

The Souper Bowl of Caring kicks off on February 2 with a canned good drive. We will score a touchdown for hunger when we collect 3,700 cans, which breaks down to one can per member.

We go into overtime February 9 when the youth collect financial donations. Our goal this year is $30,000 to tackle hunger in Washington Township.

Crop Walk (CWS)
Sunday, October 17, 2021

Second members will participate in the Greater Indianapolis CROP Hunger Walk at the church on Sunday, October 17 at 1 p.m. Join us to walk around our church campus and learn more about how to address food insecurity in our city and beyond!

Join our team! By donating to the CROP Hunger Walk, you are supporting food security efforts in Indianapolis and beyond. You can make a donation through October 29. Thank you!

| | | |
| --- | --- | --- |
| + | | |

Whether we're writing our representatives in Congress or picking produce from the garden at Second, feeding God's people is a vital mission. Here are the ways you can help us serve!

Crop Walk 2021

This year's Crop Walk is Sunday, October 3, 2021. Over the years Second members have logged countless miles, raising awareness and money to help neighbors near and far get the meals they need. Join us this fall!

+

Bread for the World
Speak out to end hunger!

Send your representatives a letter about food security issues. Visit Hunger Team tables on Sunday, June 13 or use online forms.

"Jesus said, 'You give them something to eat.'"
Matthew 14:16

Second member Mary Henehan shares her passion for hunger relief and explains how you can help.


Will you join Bread in speaking up for families struggling right here in Indiana? Each year Second partners with Bread for the World to advocate about food security issues in our country and around the world.

Here's how you can let your voice be heard:

Write a letter at Second on Sunday, June 13. The Hunger Team will have tables set up following 10 a.m. worship. Stop by to write a letter, and the hunger team will hand deliver our messages to our elected officials. Children's letters and pictures are welcome!
Send a personal email to your representatives. You can use this simple form to direct a personalized message to your representatives.
Write letters on your own. You can download this suggested letter format and use this link to find your representatives and their contact information.

---

Sen. Braun Agrees: Good Nutrition 'Pays Dividend'

Sen. Mike Braun (R-IN) told nearly 300 Bread advocates he supports investing in good nutrition as a means to not just end hunger, but to prevent the costly consequences of poor health.

"Investing in education, good nutrition in health… all of that pays dividends; a return on investment of a better life," Sen. Braun said during the Feeding our Economy webinar hosted April 20 by Bread for the World, Indiana. "Remediation is so much more costly than preventing (poor nutrition) in the first place."

"At all levels: state, local, private sector and any of the stuff we do at the federal government, you get a good return on your investment by making sure you've got good nutrition that prevents all the consequences if you don't."

As the ranking member of the Nutrition Subcommittee, the senator said he was keenly interested in proper nutrition for children in Indiana, noting a need to improve their diet and nutrition. The subcommittee anticipates hearings on local farms providing food resources for school lunches.

"Currently the nutrition part of our budget will be renewed at levels that have had a good track record" with attention to making access to existing services like WIC easier, he said.

Watch the full Bread for the World Indiana event here.

---

Indiana is the 11th hungriest state in the country.​​

1 of every 6 children in Indiana live in poverty. ​
1 in 7 households in Indiana struggle to put food on the table.
An individual must earn more than $15 per hour in Indiana to provide for a family, yet, the state minimum wage is $7.75.
In 2017, over 100 million meals were provided by federal programs in Marion County alone. But these federal programs are constantly at risk during budget cuts.

COVID-19 exposed the vulnerability of the U.S. safety net and amplified the inequity that shows that Black, Latino, and Indigenous children have disproportionately higher levels of food insecurity than their white counterparts. Children are more vulnerable than any other group to the damaging impacts of hunger even for short periods.

"Bread for the World is the preeminent voice for the hungry

in the halls of Congress." ​
Mr. Jim Morris, Second member and

former Executive Director, UN World Food Programme

More about the Offering of Letters

Each year Bread for the World's Offering of Letters to Congress engages churches, campuses, and other faith communities in writing personalized letters to Congress. You can join your voice with others around the country calling for a world without hunger.

People write letters, usually as a group, and present them as an offering to God before mailing them to Congress. Hundreds of Offerings are held each year, resulting in tens of thousands of letters to Congress. Supported with prayer, these letters are a bold witness to God's justice and mercy. Year after year, they continue to have a significant impact on the decisions made in Congress.

Second's Offering of Letters is one of the tangible ways we live into the Matthew 25 initiative, which calls us "to act boldly and compassionately to serve people who are hungry, oppressed, imprisoned or poor."

Learn more

Visit Bread for the World's website (bread.org) to learn more about food insecurity among vulnerable people here and around the world and find out what you can do to help end hunger.