Our Staff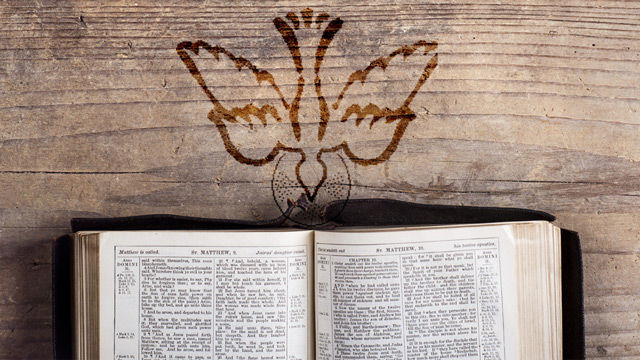 Good Books 4 Families for October
Recommended by Cara Paul
Good Books 4 Families for October
October: The beauty of Fall

Fall is a time when we see so many changes in God's creation. This special time of year brings so much to celebrate and enjoy. Here are a few of favorite children's books about fall.
Recommended by Cara Paul
These are five of his most significant works:
The Fantastic Gifts of Fall by Dandi McCall
Red Leaf, Yellow Leaf by Lois Ehlert
Fall is Not Easy by Marty Kelly
How Do Apples Grow? by Jill McDonald
The Busy Little Squirrel by Nancy Tafuri
---
Mindfulness Meditation
Mondays, Thursdays, Fridays, 12:15 p.m.
MONDAYS, THURSDAYS, FRIDAYS, 12:15-12:45 PM
ROOM 312
Brief discussion, followed by silent practice and concludes with observations, comments and/or general wonderings. Monday & Thursday meditations are led by Scott Sweet. Friday meditation is self-led.
---
SonRise
Thursdays, 6:30 p.m.
SonRise
Thursdays, 6:30-8:00 p.m., McFarland Hall
A Bible study connecting "People of all Abilities" in song, prayer and Bible lessons
If you are interested in working with adults with special needs, please contact Suzanne Baker (sdbaker@mac.com). All age groups and skill levels are welcome.
---
Wednesdays@Second
Join us mid-week for a variety of classes and groups.
Wednesday Night Opportunities
On Wednesday evenings, Second Presbyterian Church offers a variety of opportunities for spiritual growth, fellowship, education and fun for all generations. You will find Men's and Women's studies, Financial Classes, Youth and Children's groups, and seasonal Biblical studies. These offerings vary throughout the year.
Labyrinth: During the cold winter days, we have an indoor labyrinth available for personal and group use each Wednesday, while in the warmer days, the outdoor labyrinth is always available on the northeast end of the property. More details.
Children: Child Care is open from 6 to 9 p.m. Please make reservations at least one week in advance. Click here.
---
Books for Families
May Recommendations
Books for Families
May Recommendations
RECOMMENDED BY CARA PAUL, DIRECTOR OF CHILDREN'S CIRCLE
MAY 2019 Books that celebrate how we are different. God made us all special and different and our differences make the world a better place.
Giraffes Can't Dance by Giles Andreae

Not All Princesses Dress in Pink by Jane Yolen and Heidi E. Y. Stemple

My Travelin' Eye by Jenny Sue Kostecki-Shaw

It's OK to be Different by Todd Parr Elmer

The Patchwork Elephant by David McKee
---
| | | |
| --- | --- | --- |
| | | Families in Christ |
Adults of all ages are welcome to join this group to discuss and grow in faith together. This group meets for social and service opportunities are offered throughout the year.
For more information, email Ann VanMeter or Jamey Everett.
---
The Upper Room
Sundays, 9:30 a.m.
The Upper Room
Bible Study Class
SUNDAYS, 9:30 AM, ROOM 230
Come and join us as we seek to grow in our faith through Bible study and fellowship. We are studying 2 Timothy, Philemon, and Hebrews.
Contact: Audrey Pelham
---
Women in the Word
Tuesdays, 2:30 p.m. in Room 114
March-May; September-December
Women in the Word
Tuesdays, 2:30 p.m., Room 114
MARCH-MAY; SEPTEMBER-DECEMBER
Women in the Word All are welcome to join us in the study of God's word.
Purpose: A detailed, compehensive study of the Bible to promote a deeper understanding of scripture and how it applies to our everyday lives.
Meets: Tuesdays March through late May and Mid-September through mid-December, 2:30 p.m., Room 114
Spring 2019 (March 12-May 21): PW Women in the Word are delving deeply into the Gospel of John.
Contact: Dr. Wilma Sukapjo (317) 730-4737
---
Wednesday Morning Bible Study
9-9:30 a.m., Chapel & 9:30-11 a.m., Room 356
Wednesday Morning Bible Study
WEDNESDAYS, 9:30 AM, 4th Floor
All women are welcome! Study will be Hosea.
Contact: Ruth Ann Gapen (219) 730-6271
---
The Presbyterian Women's Wednesday Morning Bible Study invites you and a friend or neighbor to join us for our summer study of "The Parable of Jesus" by William Barclay. Our study will cover two chapters each week beginning with Chapter 8. We will meet in Room 355 for 5 sessions on Wednesdays from 9:30-10:30 am on June 12, June 19, July 10, July 17, and July 24. For more information, please call Brenda Howard at (217) 891-9972 or Terri Means at (317) 251-1620.
---
Wisdom Seekers
Mondays, 10 a.m., Room 230
Wisdom Seekers
Monday Morning Book Study
MONDAYS, 10-11:30 AM, COMMUNITY RM
BEGINS SEPTEMBER 9
Purpose: Study scripture, inspirational books, pray, encourage and laugh with each other on our Faith Journeys.
Contact: Cindy Baird (317) 362-1898
---
Wednesday Evening Bible Study
Wednesdays, 6:30 p.m. in PW Room
Wednesday Evening Bible Study
WEDNESDAYS, 6:30-8 PM, PW ROOM 230
BEGINS JANUARY 9, 2019
Purpose: Provide women of all ages with a welcoming place to explore God's Word and its meaning in our lives.
Please join us any and all Wednesdays that you are able! As always, feel free to come early to chat and catch up. We will begin the video/study right at 6:30 and go until 8 PM. We gather in room 240. (PW room)
We will continue our study of the book of Romans. We are literally going to go verse by verse. We will not be using one particular study guide.
Remember all women are welcome - no matter if they attend Second or not. Our prayer is to be an inter-generational group encouraging each other onward in our life with Christ!
Contact: Ann Van Meter (317) 690-6614
---
Thursday Morning Bible Study
Presbyterian Women
Thursdays, Rooms 407 from 9:15-10:45 a.m
Presbyterian Women Thursday Morning Bible Study
BEGINS THURSDAY, JANUARY 10, 2019
This intergenerational Bible study welcomes women any time throughout the year.
2019: Studying First Corinthians
Childcare is provided. Please make your reservation a week in advance at SecondChurch.org/ChildCare.
Contact: Jill Kagey
---
Men's Fellowship Breakfast
Tuesdays, 7 a.m.

Breakfast & Bible Study
Hosted by Men@Second
TUESDAYS, 7 - 8 AM, YOUTH SUITE
Every Tuesday morning, men of Second meet in the Youth Suite for a pancake breakfast and Bible study discussion.
Presently, the Scripture passages are from the Gospel and Luke covering the crucifixion and resurrection of Christ. The study and discussion time is now being streamed live n the Men@Second facebook page: Facebook.com/MenAtSecond. Come join men on Tuesday mornings for a time of fellowship and prayer, or view the study and discussion on Facebook.

---